Tony Huerta's Biography
Tony Huerta Producer, Singer, Beatboxer, Studio Owner and Live Sound Engineer.
Tony Huerta started his music career as a professional singer for Six Flags/Elitch Gardens, as well as majoring in Vocal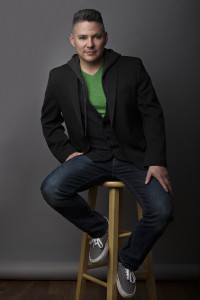 Performance at the University of Northern Colorado.  In 1998, Tony joined the groundbreaking A Cappella group "The 17th Avenue Allstars" and performed for ten years as the Vocal Percussionist and baritone/tenor, performing in about 70-80 concerts per year across the United States. As the principle arranger, recording engineer, and producer for three full length "Allstar" CD's, Huerta took it upon himself to learn studio and live sound engineering.
Huerta's recording studio, Sonic Audio, was founded in 1999.  He has produced, engineered or mastered a cappella CD Projects for: The Real Group, Take 6, Harmonia Vocal (Angola Africa), Traces of Blue "Afro Blue from NBC's The Sing-Off", Cadence, M-Pact, Six Appeal, Nota & Sony Latin, Face (Boulder, CO and the NBC "Sing Off"), Vocalosity, The Eli Young Band, and many more. He also Recorded, Mixed and Produced the world's first Opera Acappella, Midsummer Night's Dream for Opera Memphis!
Currently, Tony is the international touring Production Manager for 10 time Grammy winners, Take 6 of which he met in 2006. He also currently engineers dCappella for famed producer and arranger, Deke Sharon
He has engineered Amy Grant, Baby Face, Kirk Whalum, Nnenna Freelon, and Brian McKnight, as well as the 2010 Shakira tour as Front of House engineer for Nota.. Huerta has also mixed in famed halls and venues like the Carnegie Hall, Kennedy Center, the Apollo Theater, Lincoln Center, American Airlines Arena, Pepsi Center, Tokyo International Hall, and more. His TV credits include specials for TV One and Trinity Broadcasting Network, PBS Tavis Smiley for Quincy Jones Productions with Take 6 and Jacob Collier, and the White House Christmas Tree Lighting. Huerta also engineered live sound for the 2009 Armed Forces Network Production of "Holiday Notes From Home" at the Grand Ol Opry in Nashville which received a regional Emmy Nomination.
In July 2011, Huerta founded and performed in
the vocal group Urban Method on NBC's "The Sing Off"!  Tony and the group were on 12 episodes of prime time network TV and were finalists on the show with Pentatonix.  He also shared the stage with Pentatonix and FloRida on the finale.
Tony is searching out new professional engineers to round out his team.  Go to acappellamix.com to see the details and to become involved in a cappella engineering!
Tony Huerta
tony@sonicaudiopro.com
tony@take6.com
303-668-7229